The popularity of digital workflows in dentistry is steadily growing in the marketplace, leading to a gradual replacement of traditional analog workflows. Clinics, labs, and patients benefit from this improved, modern method of crafting dental implant prosthetics, with digital workflows improving the overall quality, accuracy, and efficiency to produce better outcomes.

The adoption of digital workflows and the equipment and technologies that support them is growing rapidly. As just one example, looking at the CAD/CAM industry gives a good indication of where the industry is heading, with a 16% compounded annual growth rate (CAGR) expected in the next five years1.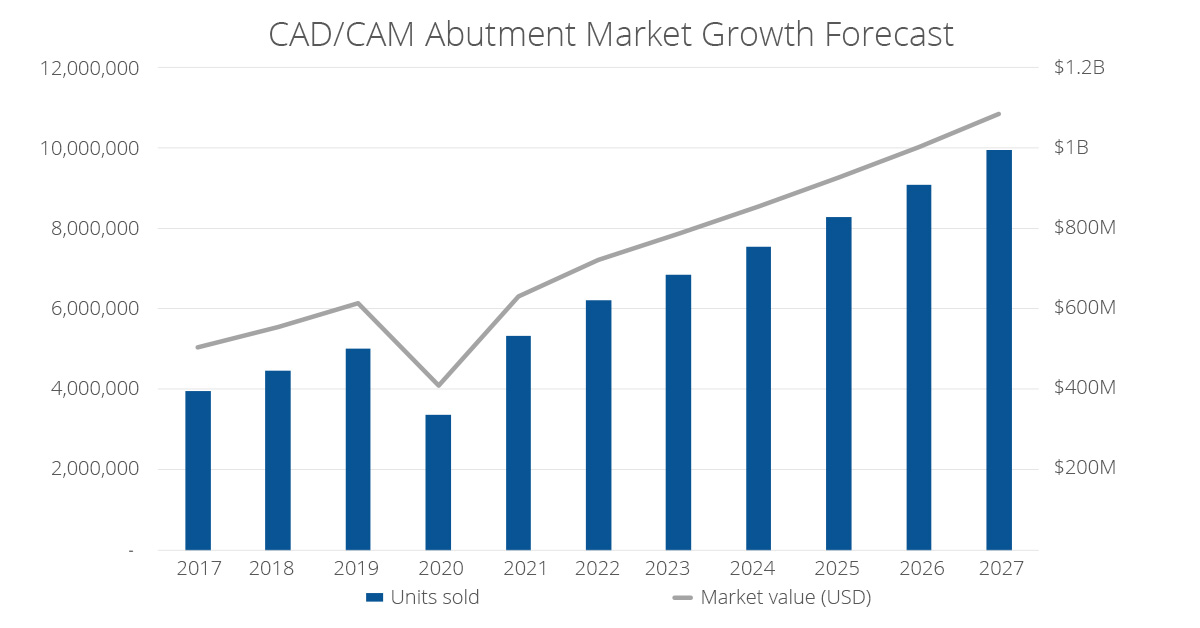 Source: iData Research Inc 2021 1iData Research Dental 3D Printer Market Size, Share & COVID19 Impact Analysis Report
End-users can choose to go almost entirely digital or combine analog and digital processes to stay in their comfort zones while achieving the best possible implant restoration outcomes. This flexibility helps clinics and labs work at their best and most efficiently.
In fact, the uniqueness of implant features themselves is becoming less key to end-users as compared to having the ability to work digitally in an effortless way: from how the abutment connects to the prosthetics to how the experience is from scanning to CAD/CAM, and finally how the final prosthetic fits in the patient's mouth.
Still, limitations persist in the market that reduce the ability of dental practices and labs to work and collaborate efficiently. Steven Campbell, Managing Director of Nexus Dental Laboratory and President at Dental Laboratories Association in the U.K., explains, "When going digital, the system absolutely matters. If you are going with a group that is hampering you because of some licensing agreement or simply because they want to keep you in one ecosystem, it really makes your day a lot harder."
Limitations in some digital dentistry workflows
Since their introduction, proprietary digital workflows have offered users a high level of quality and precision that far surpasses that of analog workflows. However, a notable issue with proprietary digital workflows is that users are locked into a predefined list of equipment based on the manufacturer's preference—not necessarily the end user's preference.
Once a dentist or lab starts working within a proprietary workflow, the templated structure doesn't allow for alternative options, even if a better product is available for a specific case.
Additionally, proprietary digital workflows can carry a high financial burden for end-users who are allowed little to no option to substitute alternatives in any part of the implant scanning, design, or production process.
As the technology matures and more offerings than ever are flooding the market, end-users have started to demand solutions that work more broadly across all systems and software.
To address this need, there has undoubtedly been a surge in solutions that offer workflows that provide end-users with more individual tailoring to meet their needs. Implant manufacturers will need to continue growing their agility and time to market to keep up with the disruptive environment driven by these competition and technology shifts.
The rapid development of technology in digital dentistry workflows
Developments in digital dentistry workflows need to support a rapidly growing user base and, likewise, increasing demands for customization.
Practitioners realize substantial benefits from products and software that help them open the digital workflow to work for their needs. It means clinics and labs are given the control to customize the entire digital workflow from the initial digital impression to CAD/CAM software choice to printing or milling.
Using equipment or CAD/CAM software from various sources allows end-users to work with the tools they know best to avoid additional training time. Likewise, they can stick with recommended tools for a better patient outcome.
CAD/CAM systems are being adopted aggressively in both Europe and the U.S., with 60% of labs using them daily. So far, 45% of smaller labs have switched to CAD/CAM systems, while up to 98% of the large labs have made the switch.2
A wealth of flexibility is unlocked for practitioners with products and software that let them structure their workflow to work for their needs. And more importantly, treatment protocols and specialization are vastly improved when end-users have access to implant system combinations built around the best patient-focused best practice solutions.
Trusted certification for digital workflows
A trusted digital workflow to us means that we have tested and verified that our solutions work seamlessly with a number of hardware and software configurations.
It's a step in the direction of open-source solutions since new products, software, and equipment are added all the time, but with one big difference: trusted workflows have a crucial advantage of verification akin to regulatory approval.
For implant companies looking to enter the U.S. market, it's essential to understand that CAD/CAM is FDA regulated, which can mean long, arduous quality assurance and regulatory processes before approval can be acquired. Generally, there are two pathways: one where you use a validated milling center and another where you validate a specific workflow that combines products and equipment.
At Elos Medtech, we have succeeded in achieving both options, with the latter being a part of what we call a "Trusted Workflow" – a solution we also offer to implant companies. The time-consuming and rigorous process of FDA(510k) clearance is already done, ultimately giving implant manufacturers faster time to market if they buy into the Elos Accurate® products.
At Elos Medtech, we have succeeded in achieving both options, with the latter being what we call a "Trusted Workflow"—a solution we offer to implant companies. The time-consuming and rigorous process of FDA 501(k) clearance is already done, ultimately giving implant manufacturers faster time to market when incorporating Elos Accurate® products into their own brand portfolios.
Much like a proprietary workflow, there is ideally no risk of incompatibility issues between equipment or software within a trusted digital workflow. Plus, end-users can determine how many—or how few—new technology purchases they want to make when solutions aren't bundled together as pre-determined components in a fixed system.
With all the benefits of digital dentistry workflows, trusted workflows get you one step closer to the future of digital dentistry: giving users the freedom to move in a flexible workflow that fosters efficiency and collaboration between dental practices and labs. With Elos Medtech's Trusted Workflow, implant manufacturers can meet end-users' demands of flexibility and freedom.